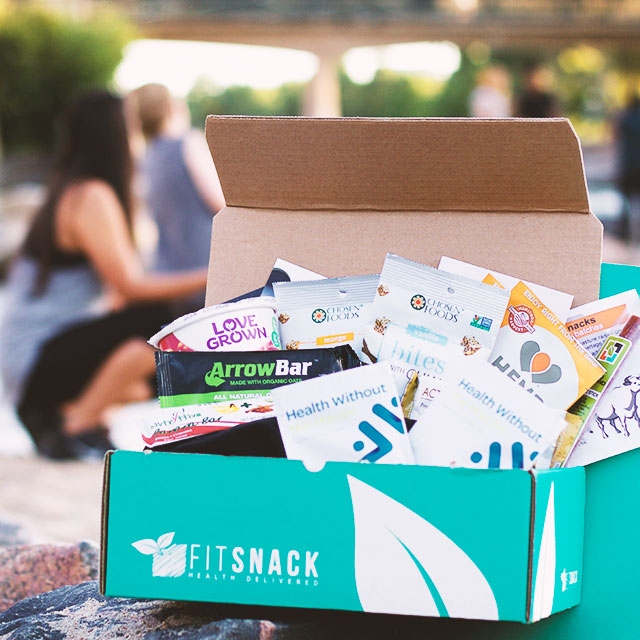 Are you looking to live a healthier lifestyle? I know it can be challenging at time
even hard. There are subscriptions out there that helps you stay on track and have health snacks. Fit Snack is a monthly subscription box with healthy snacks inside. Fit Snack offers different subscription services that fits your financial needs.
On the information card on the pack of the fit snack fit life guide there is a link where you can enter a passcode where you will find exercises. You scan the code on your cell phone. The exercises that they offer this month is their full body warm up, round 1 legs, round 2 arms, and round 3 abs. This helps you start to learn to keep in shape and tone up. Which is nice because I usually don't know where to start.
Then you flip the card over and you see what they offer inside the monthly subscription box.
The first product that we found in our box was their Why Bars. The bar that we received was there cherry chia bar. If you didn't receive the cherry chia bar or the super Cacao bar. This is a delicious real superfood ingredients including organic chia combined in a healthy, gluten free, snack bar that tastes great.
The second product that you received was their Weeks Honey Farm cinnamon honey spread. This comes in a small little jar. This is award winning cinnamon infused gourmet whipped honey. Weeks Honey farm has harvested pure, raw, unfiltered honey the same way since 1960. 100% USA.
The third product that was in our box was their Backpackers Pantry. This is their Vegetable Medley. Backpacker's Pantry Vegetable Medley combines Corn, Peas, and Carrots in a delicious, light, butter sauce.
The fourth product that was in our box was their Kibbo Foods. This is Himalayan Sea Salt Chickpea Chips. A chickpea twist on a classic flavor, our Himalayan salt chips are perfect for dipping in guac, salsa, or whatever you may choose.
The fifth product was their Teaonic My Brain Mojo Wellness Shot. Clear Mind. Delicious, daily wellness shots- packed with powerful herbs, juices, and plant extracts. A mind boosting combo to cognitive function and fuel your mind.
The sixth product Flap Jacked. This comes in Chocolate Chip Cookie Bars. This is a portable protein made for any lunchbox, backpack or gym bag. Our mini meat sticks are crafted with antibiotic free meat and made the Vermont way for the finest flavor in every bite.
Foods Alive- Nutritional Yeast. This is a source of dietary fiber vitamins, minerals and a complete protein with a delicious cheesy flavor. Most Nutritional Yeast products are fortified with synthetic B Vitamins, but not this one.
The last product was Moon Cheese. We received two of these Get Pepper Jacked Moon cheese. This is fuel up with Moon Cheese as a crunchy snack- protein packed, no sugar, low in carbs.
I was quite impressed with what fit snack has to offer. They offer a variety of healthy snacks for you each month. Usually when I have had subscriptions they give you a few products. This one gave you a whole box full of products that you can try. They also give you exercises to while at home that month. If you want to find more about their fit snack you check their website out.
Disclosure: I received one or more products or monetary composition for the exchange for my honest opinion. I only recommend product that I would use personally or believe would be a good fit with my readers. All opinions are 100 percent my own and may differ from yours. I am disclosing this in accordance with the Federal Trade Commission's 16 CFR, Part 255: "Guides concerning the use of Endorsements and Testimonials in Advertising.