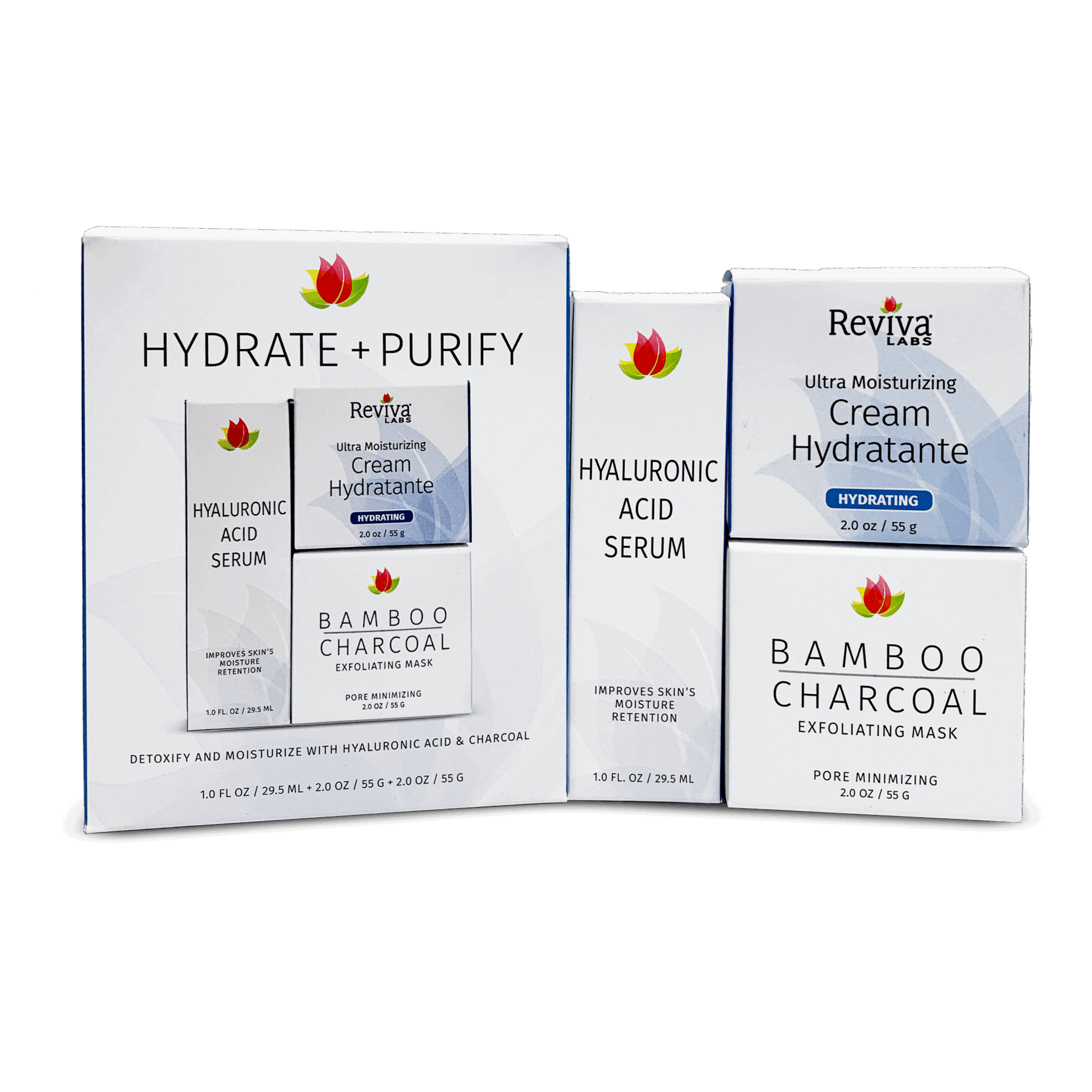 I'm excited to be back and share another amazing product from Reviva Labs. I have been a huge fan of Reviva Labs products and I'm excited to take a look at their Hydrate + Purify kit. This kit helps detoxify and moisturize with Hyaluronic Acid and Charcoal.
This product kit helps moisturizing your skin and helps improved the appearance of your skin and helps with fine lines and wrinkles. This kit also helps deep cleanse and gently exfoliates your complexion with their charcoal mask to reveal healthy looking skin.
The first product in this kit was Hyaluronic Acid Serum. This product is high-potency serum that helps rebuild the skins appearance. This helps your skin appearance and helps it looking younger-looking. I noticed that product helps make your skin feel smoother. It also will help with wrinkles and fine lines. This product will also help improve your skin's moisture levels. If you are looking for the product that helps the appearance of skin and wanting to reduce the furrows and fine lines, than this product should be in your beauty routine.
The second product in this kit was their Ultra Moisturizing Cream Hydratante. When you open this jar, you might notice a slight discolored surface film. Don't be alarmed this is abosultly normal and is a neutral layer formed by the Candelilla Wax. This is a low water formula rich with nourishing oil that helps to super hydrate skin. Candelilla was helps slow down the moisture loss that you need to retain for your skin. This product can also help calm the dry and irritated skin that you maybe experiencing at this time. This product can help tame that effected area. This cream is recommended at night. This cream should be applied to clean skin around the face and throat area. When applying this product you will want to use wet fingertips. This product can be used on face, hands, feet or wherever you have dry or irritated skin.
The last product in this kit was their Bamboo Charcoal Pore Minimizing Mask. This masks offers a natural exfoliation with deep natural cleansing. I often wondered how charcoal can help your skin appearance? Charcoal helps to brighten dark spots that you may have on your face. Charcoal can also help the even skin tone and hyperpigmentation. This mask can help cleanse and gently exfoliate your skin. This charcoal mask helps improves its tone and color while removing impurities. What is amazing about this product is that you can use it daily or weekly. It depends on what you prefer.
This kit is great to help hydrate and purify your skin. I was excited to have the Hyaluronic Acid. Also the kit provided a charcoal mask that helps fight the impurities of your skin. I also loved the cream that they offered to help dry skin or irritated skin. You can use this product on effected areas on your skin. You can find this kit on the link below. Stay tuned tomorrow for another wonder kit by Reviva Labs.
Disclosure: I received one or more products or monetary composition for the exchange for my honest opinion. I only recommend product that I would use personally or believe would be a good fit with my readers. All opinions are 100 percent my own and may differ from yours. I am disclosing this in accordance with the Federal Trade Commission's 16 CFR, Part 255: "Guides concerning the use of Endorsements and Testimonials in Advertising.