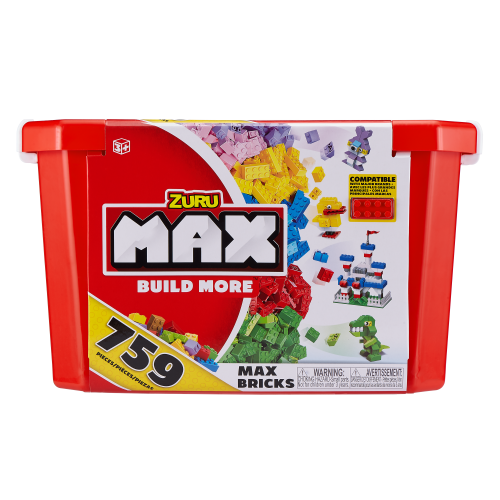 Are you looking for a special gift for your child who loves to build things? I have a great gift that you'll want to grab this holiday season. Zuru offers a MAX Build More Premium Building Bricks Set! This set come with 759 bricks. I know that my kids love building things with bricks. This set is perfect and will give them endless opportunities to build their creations.
This set is a premium set. I know with brick sets. I always ask a few questions. Do the bricks go together easily? That is a huge factor for my kids. My kids will get frustrated if they don't go together easily. Well I'm glad to say that this set they go together great. There was no issues. My daughter could put them together and had a lot of fun. This is a bulk pack and is fully compatible with other major building brick brands. I was quite surprised when I learned about that fact. I know that we have a ton of different bricks around the house and they can be combined.
My daughter found that their was a booklet inside that gave her ideas what to build. Although Emmy never has a problem of coming up with creative ideas. Although the guide does help her come up with new ideas. She spent hours playing with this set.
I will be real honest that this Holiday Season has not only hit my family hard, but others as well. I know a lot of families like name brand like Legos. Max Bricks are just as good and way less expensive. I know that this holiday I really have to save my and watch my money spent. This set cost 19.99 and you get over 700 bricks. I know which set that I will be buying this holiday season.
.
Ages 3+, SRP $19.99. Available at
Walmart
.
Disclosure: I received one or more products or monetary composition for the exchange for my honest opinion. I only recommend product that I would use personally or believe would be a good fit with my readers. All opinions are 100 percent my own and may differ from yours. I am disclosing this in accordance with the Federal Trade Commission's 16 CFR, Part 255: "Guides concerning the use of Endorsements and Testimonials in Advertising.