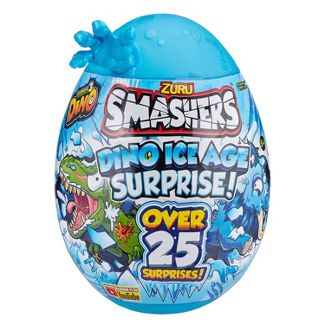 Are you looking for the must have boy toy this holiday season? Well Zuru offers a Zuru Smashers Dino Ice Age Surprise. I know that this is a must have for the holidays. The one thing that is newer to me is sets that come with blind bags. Although I know that is the new it thing with the younger generation. It give kids that thrill of surprise on what they are going to find inside.
What is cool about this Zuru Smashers is that you Smash it open. My daughter had fun smashing to open to see what was inside. What is neat is that you can collect the pieces and build a T-rex, Pterodactyl or a Woolly Mammoth! How fun is that?
Another fun thing my daughter found out about this Smasher is that there is hidden clues. My daughter absolutely loved that there was hidden clues. She felt like she was on a dinosaur hunt she said. There is a official Arctic Scratch Map to fin all the hidden pieces inside the egg. You may find growing snow, slime and much more. My daughter is a huge fan of slime, so she was excited about that.
What she liked about this Smasher is that there is over 25 surprises inside. I don't want to give to much away about what is inside. You will find slime and some fizz. You will have to be an explorer to find all the surprises that is hidden inside.
What is also neat about this Smasher is that there is dinosaurs inside. You can play with them. What is neat is that their tails move and their heads. I know a little boy who absolutely thought these were amazing. He spent hours playing with them. What is great is that you can collect different ones and play with them. Or you can battle with them and see who will come out top.
This is a great gift for all those Dinosaur fans. They will not be disappointed. Even though my daughter was not a fan of Dinosaurs, she absolutely had a blast with this toy. I would highly recommend find it at your local target or other general store.
Disclosure: I received one or more products or monetary composition for the exchange for my honest opinion. I only recommend product that I would use personally or believe would be a good fit with my readers. All opinions are 100 percent my own and may differ from yours. I am disclosing this in accordance with the Federal Trade Commission's 16 CFR, Part 255: "Guides concerning the use of Endorsements and Testimonials in Advertising.