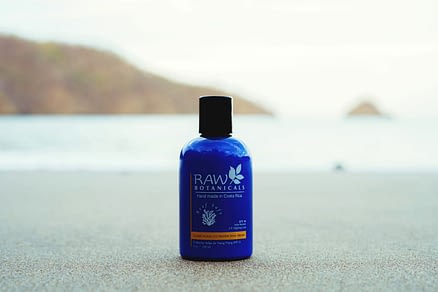 I know that I been a journey this past year looking for the top notch skincare line and skincare products. It amazing to learn that a lot product that I have used as a teenager and in past are harmful and have harmful ingredients. Recently I was introduced to a company called Raw Botanicals. They offer a line of skincare products that raw natural ingredients that your skin will absolutely love.
We were excited to be able to take a look at their Ylang Ylang Protect Cream that they offer on their website. This is a sunscreen that will protect you from the sun. It comes in a small bottle that I like. What I like about the size of the bottle is that it smaller and can be more portable. It can fit in my purse without it taking up to much space.
This bottle comes in 4 fl oz. This sunscreen formula is a class recipe knowing that the ingredients are safe for the planets delicate coral reef system. This product has Raw Botanicals Silky Ylang Ylang Protection Cream that simplifies your life by a lot. This cream is easy to apply to your skin. I use a small amount of product and rub it in a circular motion to absorb into the skin. This has a combination of certified organic aloe gel, coffee extract and potent antioxidants that defend against the environmental stress and irritation.
What I like about this cream that it goes on without any issues. Its lightweight and easy to absorb into the skin. This sunscreen is recommend to apply 10 minutes before exposure and 30 mins after exposure. You can find this sunscreen and other product at the link below.
Disclosure: I received one or more products or monetary composition for the exchange for my honest opinion. I only recommend product that I would use personally or believe would be a good fit with my readers. All opinions are 100 percent my own and may differ from yours. I am disclosing this in accordance with the Federal Trade Commission's 16 CFR, Part 255: "Guides concerning the use of Endorsements and Testimonials in Advertising.