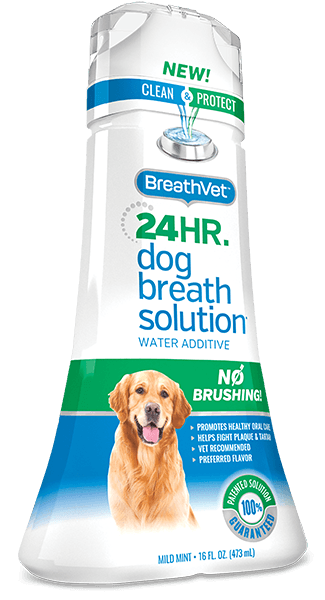 Does your dog have bad breath? If the answer is yes I may have the product just for your pet. Recently I was introduced to a new product called BreathVet. This product will help your dog with bad breath. I know sometimes when I pet comes to me and they try to lick me, I noticed their bad breath.
When I checked BreathVet website I learned a lot about their product. When it comes to my dogs health and happiness, I will research the product that I use on them. When I read about this product they said the best time to find out your dog has bad breath is bath time. It's also the best way to recognize when your dog's oral health could use that extra boost.
What is the cause of dog's bad breath. It's Volatile Sulfur Compounds that are known to cause bad breath for dogs. VSCs develop when the natural bacteria that live inside every dog's mouth consume protein left behind on teeth, gums and tongue. This can also irritate your dog's oral tissue, which can lead to more serious oral health problems. It can cause bleeding and gingivitis.
BreathVet's patented two solution zinc-ion formula activates when mixed together, eliminating the sulfur gas and prevent it from returning for 24 hours. This is what makes it works and helps prevent oral issues for the dogs. My dogs will take this product without any issues. You add a little bit to your dogs water and your good to goes. This will last for about 24 hours. If you like to learn more information or to see where you can purchase this from. Check out the link below.
Disclosure: I received one or more products or monetary composition for the exchange for my honest opinion. I only recommend product that I would use personally or believe would be a good fit with my readers. All opinions are 100 percent my own and may differ from yours. I am disclosing this in accordance with the Federal Trade Commission's 16 CFR, Part 255: "Guides concerning the use of Endorsements and Testimonials in Advertising.