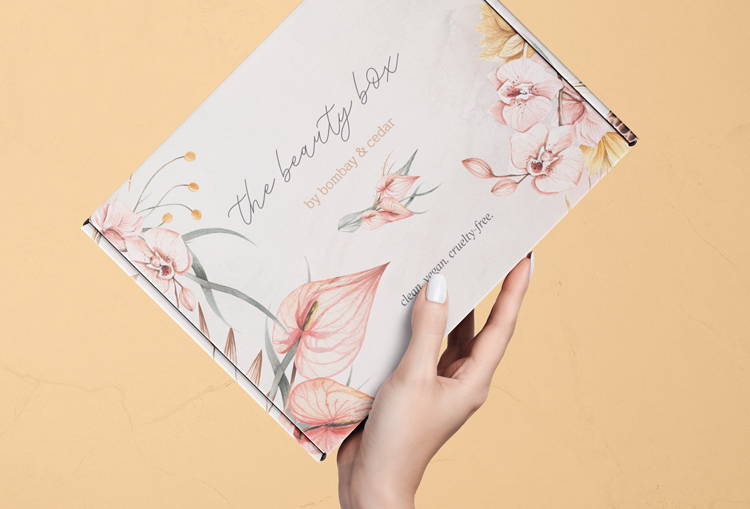 Are you looking for a good beauty box that you can get monthly? I have a subscription box that you can order monthly. They do have other subscription options that fit what your able to afford. Recently I was introduced to a company called Bombay and Cedar and they offer top notch products in their monthly subscription box.
I received their may box to take a look at. Inside the box it came with a bag that have all the products to try inside. I was pretty excited to see that it was full and the excitement grew to see what was inside. The first thing that I took a look at was a card that was underneath the bag. This showed what was in the box and described each item and let you know the value of each item.
The first item out of our bag is the swift eye shadow. This item is by RMS beauty. The eye shadow is like a rose color and it very pretty. To be honest I really like this color, but if I ran across it before now I'm not sure if I would buy it. This product is created or people who prefer powder to cream eye shadow. On the card it said that it's mixed with the industry's best mineral color pigments. They also mentioned that this eye-shadow will not dry out the lid. This eye shadow is valued at $20.00.
The next product that we took out of our bag was their Magic Wand Brow Gel. This is by R+CO. What is nice that this is a tack free brow gel that tames and conditions your brows. This is a long lasting with no flakiness for a groomed brow that will look a lot thicker. This is valued at $20.
The next product that we took out of our bag was their Iconic Anti Wrinkle Facial Massager. There is another option that you may get in your box. Which is the perfect brow eyebrow trimmer. Our Iconic Anti Wrinkle Facial Massager is supposed to help reduced wrinkles, circle underneath the eyes and puffiness around the face. This is a $30 value.
The fourth product that we received Hair Rinse Tea. This is by Lhamour. This is a herbal hair rinse that provides deep cleansing. This helps soothes irritation, prevents dandruff and helps improve blood circulation to the scalp. This is easy to apply and use. This product is made with organic herbs and botanicals that will help sooth and irritated scalp. This is a $14 value.
The fifth item in the bag is Day Dreamer Face wash. There are two other options that may be in your box and that is Prime Time Face Polish and Hyaluronic Lip or Eye Mask Set. The Day Dreamer Face Wash by Blume. This is a creamy, super gentle and hydrating facial cleanser. This is a $16 value.
The last product that is found in the box is the Caley Color Wave Natural Lipstick. There are several other options in this category. Three other brands offer a couple different lipstick or lip gloss. The one we got was by Caley Cosmetics. This is a natural color wave lipstick. Which the lipstick goes on smooth and looks great. This is a retail value between $16-18.
Overall I was quite impressed with this beauty box. Usually when I have taken a look at other boxes you may get 2-3 small items. These were pretty decent size and great quality. I was surprised that we received 6 items. Also it shows you what other items could of came in the box. I like how they change it up. If you want more information or take a look at their monthly subscription box check the link out below.
Disclosure: I received one or more products or monetary composition for the exchange for my honest opinion. I only recommend product that I would use personally or believe would be a good fit with my readers. All opinions are 100 percent my own and may differ from yours. I am disclosing this in accordance with the Federal Trade Commission's 16 CFR, Part 255: "Guides concerning the use of Endorsements and Testimonials in Advertising.