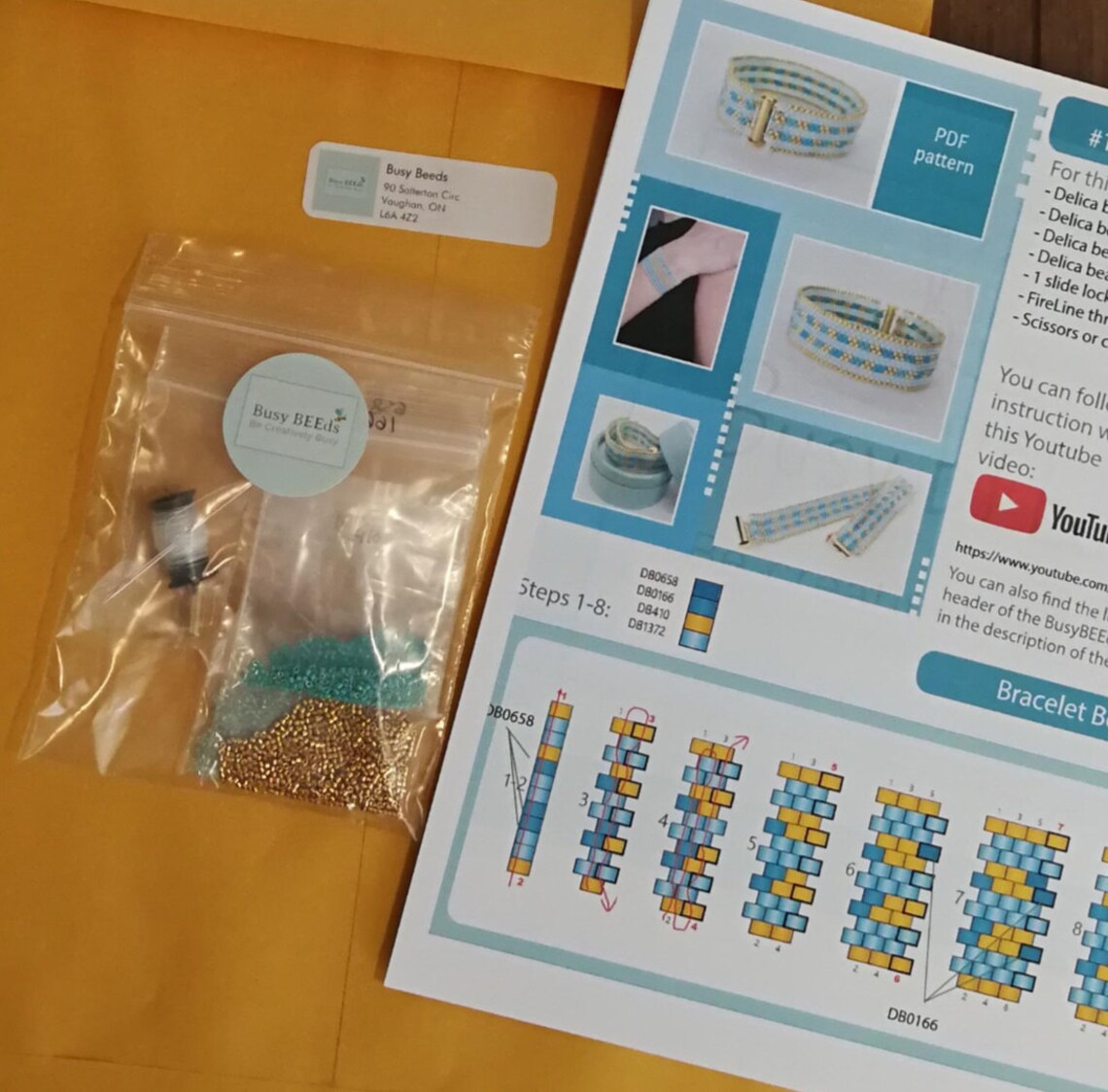 Are you looking for something fun to do over summer break? I know that the kids have been home for quite along time. Trying to find something for the kids while they're at home can be difficult. Recently I was connected with a company call BusyBEEdsCrafts. The offer several jewelry kits where you can make your own bracelet.
I would recommend this for older teens for this DIY jewelry making kit. This is a handmade gentle peyote stitched bracelet with miyuki delica 11/0 light blue and god beads for women.
What i like about this kit that it's already pre-packaged with some of the materials that you need. What you need for this kit Delica beads 11/0 DB0658-90 units, Delica beads 11/0 DB0166-90 units, Delica beads 11/0 DB0410-450 units, Delica beads 11/0 DB1672 600 units, 1 slide lock clasp-20mm, beading thread 8 yards, scissors or cutter, lighter and a needle.
What is included the craft kit includes beads, clasp, beading, needles, printed instruction. What's not included is scissors, lighter or glue.
What is nice is that they offer instructions of course, but they also offer video instructions and tutorials. What I like the about this site is that they put a lot of work in their videos and their kits. The one thing that I didn't realize that the beads are very small. Although at first I was nervous that I wouldn't be able to put this bracelet together. I feel more confident that there is youtube tutorials and that their is videos to help me get through the steps. Personally I like that better then written instructions. I feel like I will be able to complete this bracelet with their time and effort.
I hope that they will offer more bracelet and other kits on their website. I would love to invest in more of their beautiful bracelets. After you complete this bracelet wearing it out to parties or just out it will look amazing. I guarantee that you will get complements on your bracelet and you will feel product that you made it yourself. You can check out your website below.

Disclosure: I received one or more products or monetary composition for the exchange for my honest opinion. I only recommend product that I would use personally or believe would be a good fit with my readers. All opinions are 100 percent my own and may differ from yours. I am disclosing this in accordance with the Federal Trade Commission's 16 CFR, Part 255: "Guides concerning the use of Endorsements and Testimonials in Advertising.