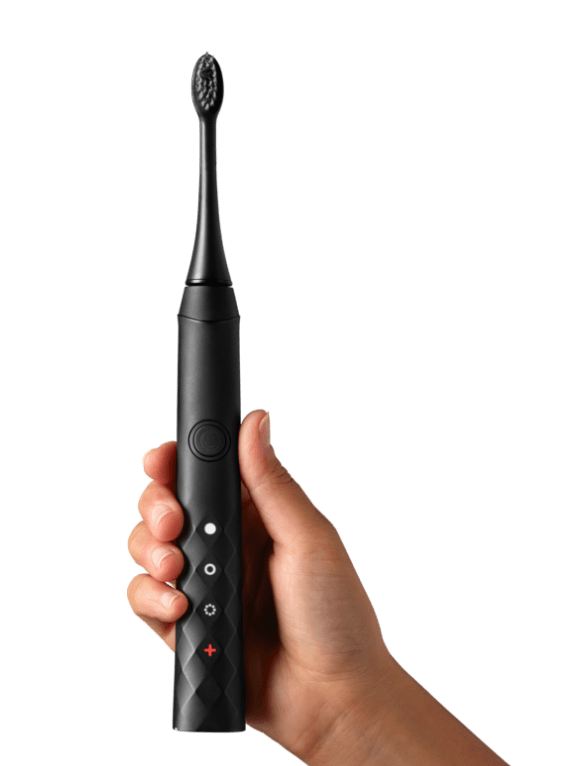 Are you looking to brighten your smile? I have for quite awhile. Although the search of a finding a new toothbrush can be a challenge. Then I was introduced to Burst Sonic Oral care. When I learned about this Oral Toothbrush I was quite impressed.
BURST Sonic Toothbrush is a unique kind of tooth brush. This is a market leader that is clinically proven to remove up to 10x more plaque than a manual toothbrush and that is what I'm looking for. I will admit that I have bleeding gum and have been trying to find something to help with that. This toothbrush helps reduce the gum bleeding gingivitis up to 3x more than a manual toothbrush does. What I like about this is the battery is suppose to last 1 month.
Looking into this toothbrush what I found was different is that it has Charcoal Bristles. This will help you get whiter teeth that you're looking for. When I heard about Charcoal bristles I didn't know what to expect. I didn't expect the bristles to be super soft. This soft charcoal infused with PBT nylon bristles. this is specially designed to remove surface stains. It has been clinically proven to provide up to 91% greater plaque removal vs a manual toothbrush.
What I like about this BURST Sonic toothbrush is that it has a 2 minute timer. I have heard that it's recommended that you brush your teeth for 2 minutes. What I like about this toothbrush is that you turn it on and it will turn off after two minutes. Which is nice because you don't have to worry about losing track of time.
What is also unique about this product is that every 30 seconds you'll feel a gentile vibration. This will remind you that you need to move on to another part of your mouth. This will help you get the best brush in. This toothbrush has three brushing modes. This has three wise modes: whitening, sensitive and massage.
What is awesome is that this is a powerful long lasting lithium battery. With a single charge your toothbrush with have for weeks of cleaning time. This includes if you want to brush your teeth twice a day. When you need to charge the battery again, you will charge it using a USB and your good to go.
It's been awhile since I used a toothbrush that is similar to this. I usually use a manual toothbrush. I will admit that this toothbrush is amazing and my mouth feels cleaner and fresher after using this toothbrush. You can find more information on their website.
Disclosure: I received one or more products or monetary composition for the exchange for my honest opinion. I only recommend product that I would use personally or believe would be a good fit with my readers. All opinions are 100 percent my own and may differ from yours. I am disclosing this in accordance with the Federal Trade Commission's 16 CFR, Part 255: "Guides concerning the use of Endorsements and Testimonials in Advertising.