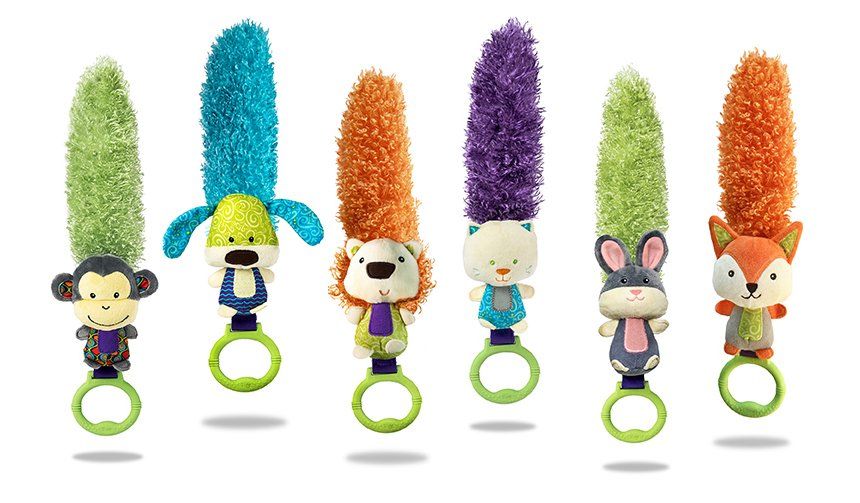 Are you looking for a unique baby gift to give to a new mom? I know it hard for me to find that perfect gift for that new mom. I'm always afraid that someone else will get the same thing that I bought. Recently I found an amazing baby toy that you can buy that would make the perfect gift. Yoee Baby offer a play, connect and bond with Yoee Baby Fox. This is recommend for babies 0-18 months.
This toy can be designed for playing together on day one. This is such a unique toy that comes in many different animals. When babies are small the love touch and interactions. This toy is super soft and tail is soft also. This is a perfect toy to interact with your baby. Also there is a lot of sensory benefits to this toy.
I love playing with babies and here their giggles and coos. If you get a smile for your baby than that make it all worth it. You can use the tail to tickle and make your little baby giggle. This can also help calm and sooth your baby.
There is a handle on the toy that make it easy for you to hold on play with your baby. The handle is not to hard and it doesn't overpower the toy at all. It pretty comfortable and doesn't jam your hands up while playing. This toy is also amazing because it promotes development. It helps connection and bonding between parents, siblings, grandparents and baby. This also helps promote sensory development, body awareness, gross & fine motor skills, language and hearing development. This also have different fabrics on the toy, sounds and textures engage baby sense. Babies love different textures and this toy has everything that they need. This toy also have features a silicone teether, gentle rattle, crinkles and chew safe tag.
This is amazing toy for baby and parent. I know my number one concern when it came to any baby item was the safety of the toy. You can never be to careful when it comes baby items. This has been tested to the highest international standards. There is no BPA, no Phthalates, and it machine washable. This would make a great unique gift for a new mom. I would check Yoee Baby on there website.
Disclosure: I received one or more products or monetary composition for the exchange for my honest opinion. I only recommend product that I would use personally or believe would be a good fit with my readers. All opinions are 100 percent my own and may differ from yours. I am disclosing this in accordance with the Federal Trade Commission's 16 CFR, Part 255: "Guides concerning the use of Endorsements and Testimonials in Advertising.