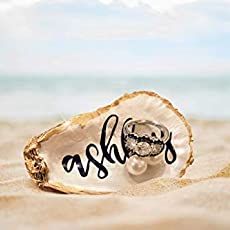 Recently I started a new journey of life. I became a pearl girl. Where I go live and do my thing. Although when I started this journey you need special things to go live. Recently before I decided to start this journey I connected with a
called Old Line Oysters.
This is a company that takes oyster shells and makes amazing art with them. They have a variety of different options that you can do with their shells. They also have a variety of different product that they offer.
When it arrived in the mail I knew that this would go perfect in my decor when I go live for my pearls. It made since that we received a beautiful oyster that had my name on it. When this package arrived in the mail it came in a nice brown bag that had a box wrapped up inside. I loved the wrapping paper that was on the box. Then when we opened it up there was a beautiful oyster inside. The outside of the oyster was painted on the outside like a bronze color that was just plain beautiful. Then on the inside it was like a light white paint. Then in black it had my name Julie. What I really about this shell is that I am going to use it show jewelry when I go live. I was thinking of putting a few rings on it. Or maybe a few pearls that I want to show off. This is definitely the perfect show piece when you go live.
When I saw this piece of art I was blown away. When I looked at the pictures before it arrived I thought it was pretty amazing. When it arrived in the mail I was blown away with the presentation of the whole package. From the bag, to the package and the oyster that was inside. It was beautifully painted and the name was perfect. If you want to find out more information about these amazing creations check them out below.
Disclosure: I received one or more products or monetary composition for the exchange for my honest opinion. I only recommend product that I would use personally or believe would be a good fit with my readers. All opinions are 100 percent my own and may differ from yours. I am disclosing this in accordance with the Federal Trade Commission's 16 CFR, Part 255: "Guides concerning the use of Endorsements and Testimonials in Advertising.