My daughter is getting to that age where she learning about eyeshadow, lip gloss and skincare. There are day when we have girls night in right now and we do each others make up. We have a lot of fun and she starting how to apply eye shadow and lip gloss. As a mom it's important to that the cosmetics that my daughter is wearing is safe and that won't harm her skin.
My daughter is excited to learn about Ofra Cosmetics. When she took a look at their website she noticed that they offered a variety makeup options, skincare and bundle options. They have a wide range of eye shadows, lipsticks, highlighters, foundation, prime & set, Palettes, tools, skincare, body care, eye and lip care, face care, cleansers and toners, mask and peels, serums, moisturizers, skin care kits, and more.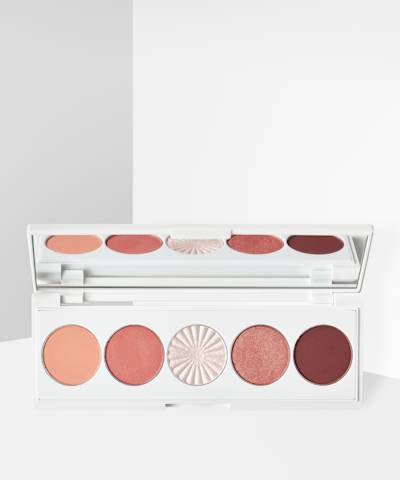 We received several product that we took a look at. We received their signature
, Foaming Vitamin C Cleanser, and Lip Set.
The first product that we took a look at was their Signature Palette Sweet Dreams. This palette is a great starter palette for my daughter. When she first saw this palette she was in awe. This palette has 5-2g pans. My daughter liked the packaging of this palette the liked the colors and the triangles on the box. When she took it out the palette was pretty she said and when she opened it up she about fainted. She get really excited when she look at different kinds of make up. What inside this palette: Dreamcatcher (a soft peach with matte finish), Snooze ( a coral nude with a matte finish), Pillow Talk (a soft pearl pink), Crush (a coral pink shimmer) and Trance (a sienna brown with a matte finish). What is great about this pallet it small enough for travel and you can put this in your purse or your bag. This also has a slim compact with a mirror. How to use this shadow apply to the lid with a dry shadow brush, or mist a brush with makeup fixer for a bolder look. She has be experimenting with the colors and she absolutely loves the colors.
The next product that we received was their Foaming Vitamin C Cleanser. I have sensitive skin so I have to be very careful on which product that I use on my skin. When I'm trying new cleansers I usually try a small amount to make sure that it's gentle on my skin before I use the full amount. This cleanser comes in a 5oz bottle which is 150ml. This cleanser will help refresh your skin after using it. When I applied this cleanser I pumped a few times to get about a quarter size. This comes out in a foam. This is a non irritating formula. This cleanser helps remove dirt, oil, and skin impurities to uncover a glowy complexion. I like how this cleanser smells like citrus it smells amazing. You can use this cleanser day or night. This product is easy to use. I apply about a quarter size which is about two pumps. Then I massage this cleanser into my face and neck area in a circular motion. Then I rinsed my face off with lukewarm water.
The last product that we took a look at was their OFRA Lip Set. This set has three lippies inside. When my daughter saw this set she freaked out. She tried to claim it right away and said it was hers. This lip set has three lippies inside. The three different shades are Coven (a neutral metallic brown), Nude Potion (a neutral nude pink) and the last color was Spell (a neon coral pink with slight sheen) This is a matte liquid lipstick that last a long time after applying. I like the color pigment while applying on the lips. The test is how long does the color last on your lips. It lasted for quite along time and I was impressed. We enjoyed all three colors and had a fun time.
My daughter and I had a fun time trying Ofra Cosmetics and we were impressed with the quality of the makeup. As a parent I felt comfortable that my daughter used these product. They were vegan and the ingredients were safe. My daughter absolutely fell in love with Ofra Cosmetics and would recommend them. You can find all their amazing products on their website.
Disclosure: I received one or more products or monetary composition for the exchange for my honest opinion. I only recommend product that I would use personally or believe would be a good fit with my readers. All opinions are 100 percent my own and may differ from yours. I am disclosing this in accordance with the Federal Trade Commission's 16 CFR, Part 255: "Guides concerning the use of Endorsements and Testimonials in Advertising.