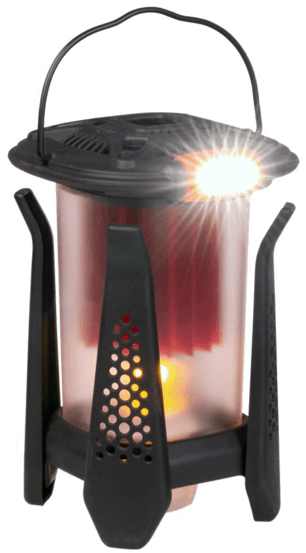 Does your dad like to camp? I know that my dad loves camping with my kids. There are times where they meet up with mutual friends and go camping for the weekend. I know that this Father's Day I always try to find him something unique and something that he will use in the future. Luminiser offers a lantern that you can use while camping and this is the perfect gift idea.
What is the Luminiser you may ask? This converts safely and reliably, the heat of energy of a flame into electricity that powers bright LED lights. What is awesome about this lantern is that there is a Mosquito Stop Mat inside your Luminiser. This will provide hours of mosquito free camping. Which is what I need when my daughter is camping with grandpa. If she gets bitten by mosquitos her bites tends to get swollen badly. They usually become size of baseballs or bigger.
The Luminiser has high performance. What is cool about this product is that it reduces fuel consumption by 90%. This amplifies the light about 20 times up to 200 Lumens. When you put one of the oil cartridges in this lantern you will get close to 8 hours of LED light. What is nice that this lantern is portable, lightweight and rugged.
I know one of my concerns when it came to this lantern and was it safe? I know that my dad will be using it around my children and I have to be certain that it will be safe. This product has infinite storage life and this will work when other don't. I was surprised when I learned that this product can be submerged in water and it will still work. There are no moving parts for conversion of heat to electricity. This is a great lantern to have when you need it for emergency or for camping.
This is amazing lantern and I would recommend investing in one when you go camping or even at home. You can even use it as decoration or use it at home. There are folding legs on this lantern for larger light area if desired. This has three setting to give you options. It has only flame, flash and reading light. It's easy to change the oil unit and is quick to do. Also you can see how much oil is left when and after using the lantern. You can find more information about their Luminiser on their website.
Disclosure: I received one or more products or monetary composition for the exchange for my honest opinion. I only recommend product that I would use personally or believe would be a good fit with my readers. All opinions are 100 percent my own and may differ from yours. I am disclosing this in accordance with the Federal Trade Commission's 16 CFR, Part 255: "Guides concerning the use of Endorsements and Testimonials in Advertising.