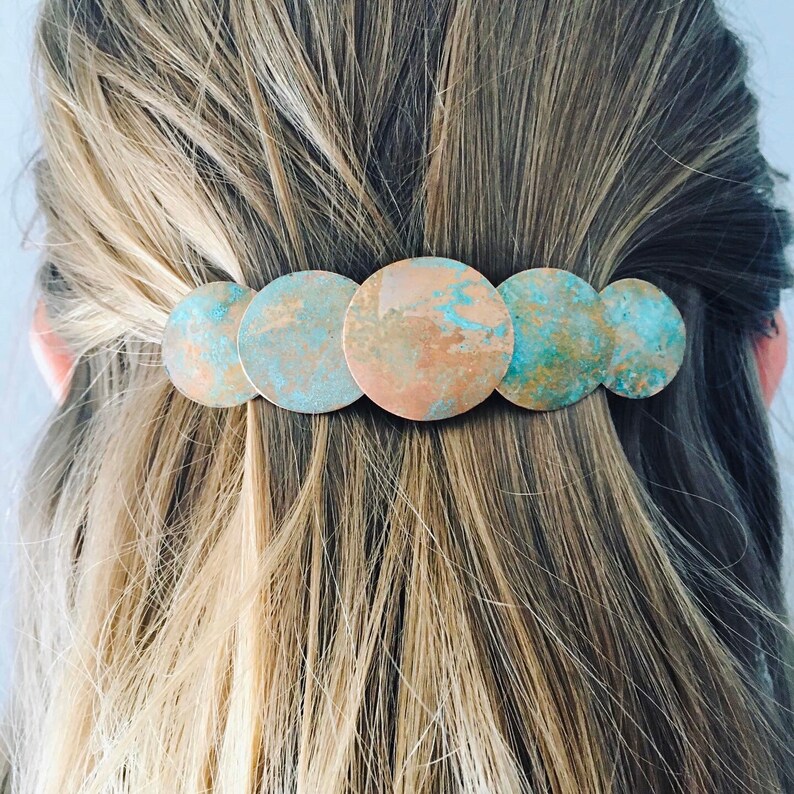 Are you looking for that special hair clip, earrings, bracelet or necklace for that special summer party? Well I have a unique company that sells amazing pieces
jewelry. I guarantee that you will get complements through that dinner date, that summer party or going to work.
DesertAccents offers a variety of hand crafted jewelry and clips for you to purchase. The first piece that we receive was their copper, steel Barrett. What is nice is that this barrettes is handmade. What is nice about this copper is that it is ages by hand and not painted on. The colors on each barrettes are different due to variation in color and color pattern will exist between the items. On the barrette I noticed several different colors and they can vary. I saw pink, red, orange, blue, green, brown and black. You can see a mixture of the different colors. What I like about this style is that it look vintage and will go with just about any clothing style which is nice. I like the barrette because the clip is sturdy and will hold the hair in place. It doesn't move that much which is nice.
The next piece of jewelry that we took a look at is their copper bangles. This set comes with three bangles that you can stack which is nice. The bracelet length is 6 inches, bracelet width is 1/8 inches. I was in awe when I saw these bangles. They were absolutely breathtaking. What is unique is that each bangle is made by hand from scratch from clean, unmarked heavy gauged copper wire. Also I learned that copper is said to have healing and anti inflammatory properties. So maybe wearing these you can look amazing and healing properties. The fit great without hurting and being painful. I also noticed that this bangle did irritate my skin.
What I like about this jewelry that is handmade and unique. Even if it a similar piece. Each one is going to be different. You will have a one of a kind of jewelry. I am a huge fan of the barrettes. I like the vintage look to the. I also like how you can wear these pieces where ever you want to go. You can check their other amazing jewelry out at the link below.
DesertAccents
Disclosure: I received one or more products or monetary composition for the exchange for my honest opinion. I only recommend product that I would use personally or believe would be a good fit with my readers. All opinions are 100 percent my own and may differ from yours. I am disclosing this in accordance with the Federal Trade Commission's 16 CFR, Part 255: "Guides concerning the use of Endorsements and Testimonials in Advertising
.