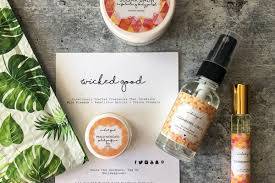 If you are looking for a little pick me up than this new subscription box is for
. Wicked good is a company that you can be different tealight, aloe hand salve, perfume oil roller, perfume spray and they offer more products on their website. They also offer a scent club that you can subscribe to and get a monthly box.

I'm always excited to see what comes in my boxes. This gives you the opportunity to order a box and get products that you can try that you maybe wouldn't have purchased otherwise.
my box arrived we received four items that were in the April box. We received a small soy candle which is apart of the aloe agave. When you burn it or open the tin you will be able to pick up the cucumber, sweet agave and honeydew. It smelt amazing and I kept wanting to smell it more.
The next product that is our box was their Wicked-Good Aloe Butter Hand Salve Greenhouse. It come in a small tin. It easy to get out and rub on your skin. It doesn't leave a greasy film after rubbing into the skin. The scent is Green Tea, Grapefruit, and Lemongrass.
The third thing that was in our box was their Perfume Spray. This is Green Amber. Which smells amazing. When I sprayed it I will admit that it lasted for quite awhile. I really enjoyed the scent and this will go in the perfumes that I wear on a regular basis. This has Violet petals, amber woods and Palo Santo.
Last product that we looked into was their Perfume Oil that is Cactus Blossom. I will be the first admit that this one is kind of a strange scent. It's not a bad scent, but it different. After using it for awhile I got used to it. It has Green Botanicals, fresh island florals and white sandalwood.
This is a great scent subscription box and I would recommend it. Also there if you don't want to purchase the subscription box there is other options. They do sell products individually if your are interested in. I would recommend the scent box so you can try different products to know which ones that you like to purchase. You can find more products on their website.
Disclosure: I received one or more products or monetary composition for the exchange for my honest opinion. I only recommend product that I would use personally or believe would be a good fit with my readers. All opinions are 100 percent my own and may differ from yours. I am disclosing this in accordance with the Federal Trade Commission's 16 CFR, Part 255: "Guides concerning the use of Endorsements and Testimonials in Advertising.