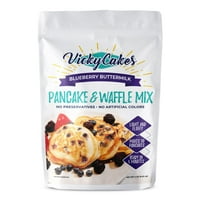 If you like pancakes and waffles your in the right spot. I know my 9 year old daughter absolutely love pancakes and waffles. We have to make it at least
a week. This is our family breakfast and usually everyone pitches in doing something while we make them. I can relate to the creator of the Vicky cakes because i'm also a single mother trying to get through some hard times.
I am excited to say that Vicky Cakes offers a variety of different pancake and waffle mixes. The come in original, chocolate, blueberry and pecan. We were excited when we were able to try their original and blueberry mixes. The packages come in a 4 oz bag. If you look on the back of the package you will find how to make pancake, waffles, and vegan. The difference between Vicky Cake and regular pancakes is there is no preservatives, dairy free, vegan friendly, no artificial colors, no artificial ingredients and always light and fluffy.
You can't go wrong with pancakes. My daughter made the blueberry package and it was easy for her to make. This is ready to make in about 5 minutes which doesn't take a long time to make. It makes roughly about 10 pancakes. They were good and my kids loved them and they were going shortly after making them. You can find their pancake bundles and mixes on their website.
Disclosure: I received one or more products or monetary composition for the exchange for my honest opinion. I only recommend product that I would use personally or believe would be a good fit with my readers. All opinions are 100 percent my own and may differ from yours. I am disclosing this in accordance with the Federal Trade Commission's 16 CFR, Part 255: "Guides concerning the use of Endorsements and Testimonials in Advertising.