I have two kids that are home from school and I'm trying to keep them up to date with their studies. The one important thing that both of my children need to do is read. It starting to become difficult for my daughter because she running out of good books to read. We have been on the hunt for great books for my daughter to read.
Recently we were introduced to a series called I Can Series by Miriam Laundry. She was nice to send my daughter her collections. She sent us The Big Bad Bully, I Can Make A Difference, I Can Be Me, and I Can Believe in Myself.
The first book that we took a look at was their book called The Big Bad Bully.
This is a bully story with a twist! Follow a young girl who struggles throughout grade school with a bully. Every day she hears her flaws pointed out. Finally, she decides to stand up to her tormentor and discovers…. it is herself! This is not a book about the bully sitting beside you in class, but the bully living in your head. After reading this book. I would have to agree. Even today I would say that I'm my worst enemy and I'm the hardest on myself. I agree with his book and never thought of it this way. It was a great book and taught my daughter a great lesson.
The next book that we took a look at was I Can Believe In Myself.
I CAN Believe in Myself Book Description – Molly has been chosen to be the next Star of the Day! Most kids would be excited. Molly, however, is terrified! She just CAN'T speak in front of her class. She worries all day. She frets all night. "I CAN'T… I CAN'T…. I CAN'T," Molly convinces herself. Or can she? "I CAN Believe in Myself" is a book that challenges children to change the way they think. Other themes in this book include compassion, confidence and self-esteem. "I CAN Believe in Myself" has garnered multiple awards, become a #1 Amazon Best Seller, and set a Guinness World Record™ My daughter loved this book and she could relate to this one. She said it made her feel great and it made her feel more confident.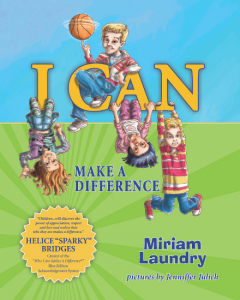 The next book that we read was their I Can Make A Difference.
I CAN Make a Difference Book Description
– Alex cannot believe it! He and his classmates are going to be given ten dollars each! Finally, Alex can buy that brand new basketball he's been wanting! But his fun gets fouled when he discovers that he must spend his gift to make a difference in someone else's life. To make matters even worse, Alex loses his money! How is he ever going to make a difference now? I
CAN Make a Difference
is a book that shows children how they can make a difference for others by using their time, talents or treasures.
The last book that we received was their
I CAN Be Me Book Description – Maria just wants to be the same as everyone else. But, no! Coming from a different country, she looks different and eats different foods with different names, like "pupusas" (which Alex has fun pronouncing: "Poo-POO-sa"). Embarrassed, Maria withdraws from her friends and struggles to even focus on her big assignment which is due in one week! All she can focus on is how different she is from everyone else. Yet, as the story unfolds, Maria discovers that she and all her classmates ARE the same in one surprising way: they are all uniquely different!
These books were amazing for my litter girl. If you are looking for books that have moral and ethics these books are for you. My daughter felt empowered after she read these books. She personally said she could relate to each book that she read. She couldn't put them down and had to read each on of them. I would highly recommend this series and would make a great investment. You can check out these books on their website.
Disclosure: I received one or more products or monetary composition for the exchange for my honest opinion. I only recommend product that I would use personally or believe would be a good fit with my readers. All opinions are 100 percent my own and may differ from yours. I am disclosing this in accordance with the Federal Trade Commission's 16 CFR, Part 255: "Guides concerning the use of Endorsements and Testimonials in Advertising.