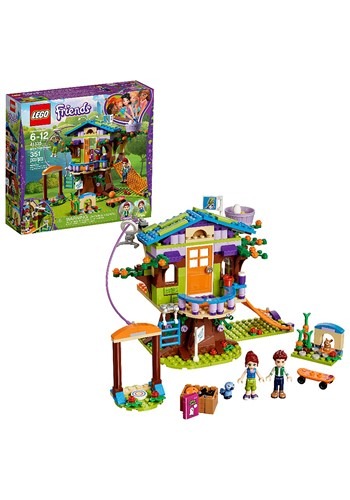 Are you looking for the gift idea for that special someone? Well recently I was introduced to a website called. www.fun.com. They offer just about a little bit of
. So it's pretty safe to say that you will find something for that special someone. They range to kids toys, blankets, toaster, character gifts, you name it that have everything.
We were able to take a look at one of their kids toys that they offer on their website. I know kids loves Legos and I know my kids sure do. My daughter is getting to that stage where she can sit down and put the legos together without needing and help from adults which is nice.
My daughter was able to choose a Lego set off their website. She choose the Lego Friends Mia's Tree House Building Set. Which she had become a friend of the Lego Friends collection. I know she has a little jewelry box that she built that was from the Lego Friends collection.
My daughter was excited to put together the Lego Friends Mia's Tree House Building Set. This set brings a lot of imagination for kids and I can tell you that my daughter doesn't lack from imagination. Building this treehouse and the playing with afterwards will spark that imagination. What comes in this set to build your treehouse is 351 pieces, a Mia and Daniel figure.
This tree house has mini figures which are Mia and Daniel where you can play with them after building the tree house. This also comes with Mimi the bunny and cinnamon the bird pet figures. This also has cool features like a folding ladder, a cool skateboard for the mini dolls to ride and wild animal figures. This has a zip wire, attic with an opening roof and a climbing net. This tree house playset measure over 6 in high and 6 in wide and 6 in deep. This is recommend for ages six and up.
This is a great gift for any child. This also helps with their building skills, imagination and creativity. I like how that she was proud of building this tree house by herself. Although I was proud that she enjoyed playing with it afterwards and coming up with a lot of different stories while playing. You can find this and many other products on their website below.
Fun.com
Disclosure: I received one or more products or monetary composition for the exchange for my honest opinion. I only recommend product that I would use personally or believe would be a good fit with my readers. All opinions are 100 percent my own and may differ from yours. I am disclosing this in accordance with the Federal Trade Commission's 16 CFR, Part 255: "Guides concerning the use of Endorsements and Testimonials in Advertising.