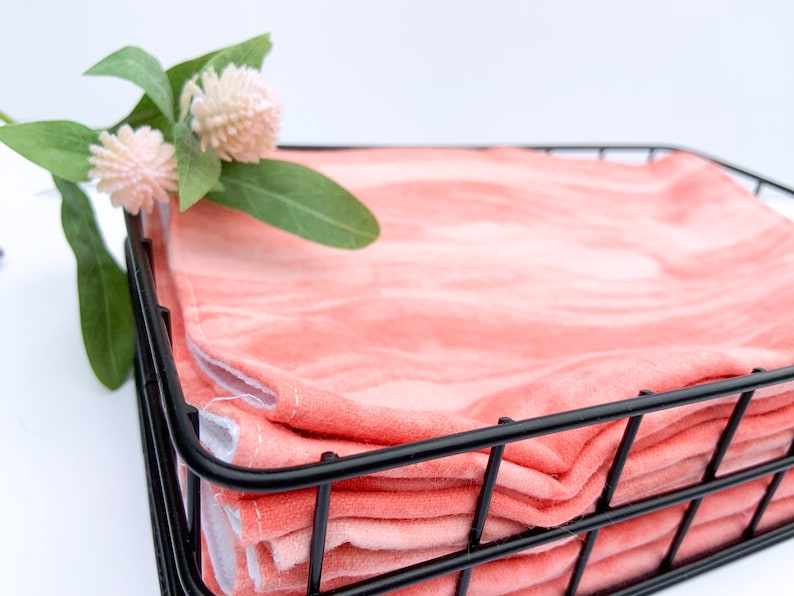 The one thing I noticed during Covid 19 is that its hard to find toilet paper and paper towel. Even after a few months when I go down the toilet paper and paper towel row it usually empty. When I heard about Eco Local I was relieved.
When I was able to give this product a try I was pretty excited. I don't know when or if they will get paper towel back in the store and in the meantime I needed something that I could use at home. I couldn't wait for the store to get more paper towel in. We received 10 orange unpaper towels and we have a basket to be able to store and put them in. It easier to keep track where they are and also this looks great in my kitchen. These towels are non toxic, absorbent alternatives to wasteful paper towels.
These towels are approximately 9 by 12 inches which are very close to standard paper towel sizes. What I like about this cloth that its double sewn for extra durability. This is made with Birdseye and flannel cotton fabrics that get more absorbent with washes. When you wash these in your machine make sure that you put them with the same colors. You will want to use warm water while washing. You can tumble dry or lay flat on a service and have them air dry.
I really fell in love with product. It simple and it looks great in my kitchen. The basket that holds the clothes looks amazing and is simple. It holds all of the clothes and they are ready to use. They are simple to wash and then I place them back in the basket. You can find this patter and many more patterns on their website.
Disclosure: I received one or more products or monetary composition for the exchange for my honest opinion. I only recommend product that I would use personally or believe would be a good fit with my readers. All opinions are 100 percent my own and may differ from yours. I am disclosing this in accordance with the Federal Trade Commission's 16 CFR, Part 255: "Guides concerning the use of Endorsements and Testimonials in Advertising.