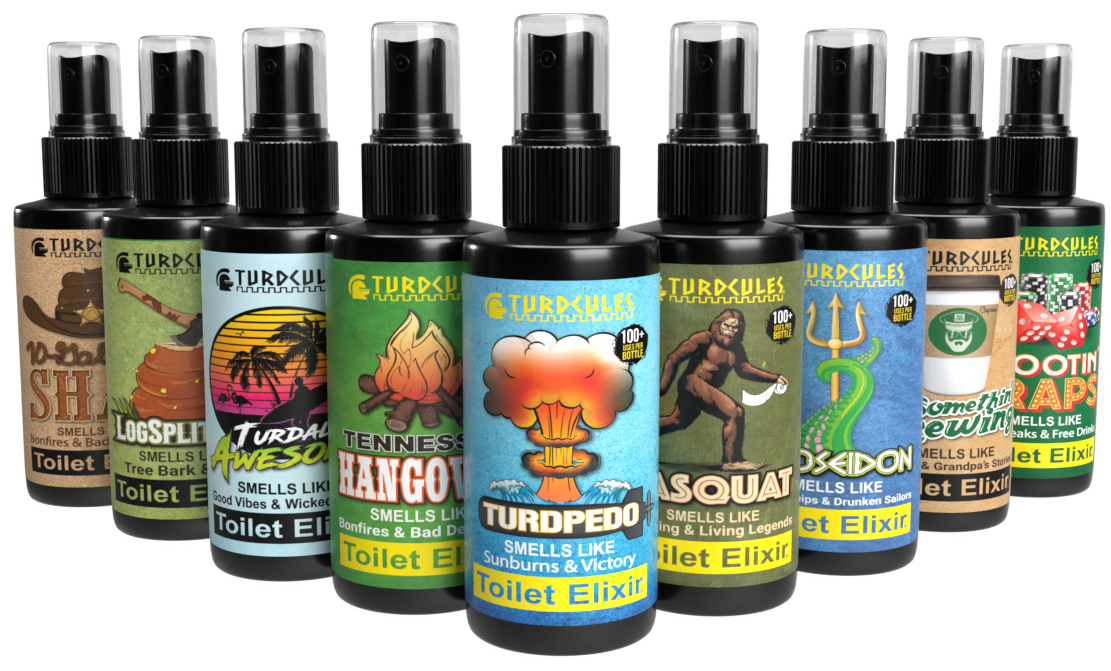 I know this maybe a little gross and a little personal but there are times I go in the bathroom and I feel like throwing up. Sometimes my kids forget the flush or their poop smells awful. That is the worst feeling when you have to go and you have to plug your noise while going. Trying to get through in going.
I'm so grateful for Turdcules and their review package. Especially right now when my kids are home all day due to covid-19 it can get pretty bad in the bathroom. With Turdcules I can actually go into the bathroom and not be afraid. I can go into the bathroom and go number two and not be ashamed. When you walk out no one will never know. Turdcules created their product due to necessity. The act of nature that spawned the need for fresh bathroom fragrance is nothing new. They wanted create a product that didn't have flowers or naked angel babies on their products. So they created a line for men that is manly. They made Exixirs that have enough pop-prietary potency to cover up the foulest of smells.
We were sent their full collection to try out. It came with:
10 Gallon Shat smells like bonfire and bad decisions. This has hints of campfire embers and smooth whiskey.
There's Something Brewing and that smells like Wisdom and Grandpa Stories. It smells like coffee beans and pipe tobacco.
Turdpedo smells like sunburns and victory. This smells like gunpowder and motor oil and grapefruit and lime.
Sasquat smells like camping and living legends. Smells like evergreen trees and wild berries.
Turdally Awesome smells like good vibes and wicked waves. Smells like satsuma & mint and cayenne pepper.
LogSplitter smells like tree bark and grit. It smells like leather and pine & moss.
Pooseidon smells like sunken ships & drunken sailors. Smells like teak wood and pirate rum.
These sprays are easy to use all you have to do is spray the toilet a couple spritz and your good to go. It amazing how well this works and smells. I can go in the bathroom and not have to worry about all those nasty smells. I would highly recommend these elixirs for your bathroom. I would check out their website.
Disclosure: I received one or more products or monetary composition for the exchange for my honest opinion. I only recommend product that I would use personally or believe would be a good fit with my readers. All opinions are 100 percent my own and may differ from yours. I am disclosing this in accordance with the Federal Trade Commission's 16 CFR, Part 255: "Guides concerning the use of Endorsements and Testimonials in Advertising.