Are you looking for unique Mother's Day Gift this year? There is still time to order on Amazon and I have amazing company that will give you that special gift for mom. I know as a mom I love a new tote bag, leather carry bag and a journal and these would make amazing Mother Day gifts this year. I'll let you in on a little secret that you can purchase these online on amazon and have them delivered to your door in no time.
The first product from Moonster is their Leather Journal for women. This is handmade genuine leather bound notebook with embossed heart cover. This journal can be good for daily drawing and sketching. This book is 7x5 inches size for travel and for on the go. When this arrived it came in a nice box that kept it protected from anything that could damage it. I may keep it in the box so I can protect it at home. When I took it out it was very beautiful and I felt like I was back in the olden days. The leather was beautiful and the engraving of the heart was amazing. I can't wait to use this as a journal instead of sketching. This is a vintage handcrafted journal and is made 100% soft, hard wearing water buffalo leather. I also noticed when I took this journal out of the box the smell of leather. I know this may sound weird but I enjoy the smell of leather.
This would make a perfect for women and even teens to start their first journal. If your not a writer and you prefer to draw than this journal would also be a great fit for you also. This journal contains 120 off white blank unlined sheets for you. What I also like about this journal is that you can take it with you on the go. If you want to go out and sketch out in nature or where ever you choose this can go with you. Or if your a writer and you would like to take this on your travels it will fit snug into your bag. You can find this journal here.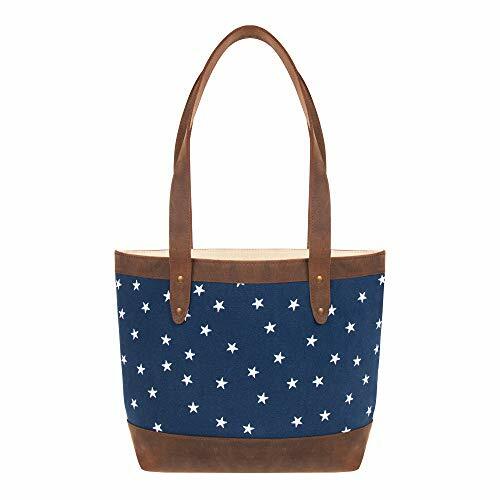 The next product that we received from Moonster is their Leather Canvas Tote Bag. This is handmade pocketbook over the shoulder purse for women. This size of purse is 16"x11" and the color of the purse is blue with stars over the purse. This tote is genuine buffalo leather trip and handles. This bag is easy to slide over your shoulder and glide around in style. You can take this bag to work, they gym, meetings, shopping trips, walks in the park, or even on a date. On the inside of the bag has cream lining. The cream cotton lining contrast beautifully with the dark wash denim tote purse. Also this has a zippered pocket, and a couple of compartments inside the leather shoulder bag. You can fit your phone, keys and other accessories. What I like about the main pocket can hold the Moonster Journal. Which is pretty amazing.
What also unique about this purse is that it can stand by itself. Not many tote purses can do this. Usually when I try to do this it collapse and it hard to organize what I put in it. I can fit many items that I need to take with me on the go and it fits great in this tote. What I also like about it that it would make a great mother's day gift. I would highly recommend using it or letting my daughter use it for her first purse. This great quality and durability. You can find this bag here.
The last product that we were able to take a look at was their Genuine Leather Portfolio folder and laptop bag. This is spacious, handmade strapless design distressed, rustic buffalo leather folder holder. This is perfect for 17" laptop and tablets. I know trying to find a great bag for computer is hard to find. I run across that they're cheap and fake leather and their not top quality. Moonster makes a great quality leather bag made with amazing deep brown leather. This is a great gift and I gave this as gift to my father. He was excited to use this new leather case for his laptop. He said that This would make great gift for a new lawyer, business person, or any other first job.
I was quite impressed with all three items that we received from Moonster. I still can't get over the fact that these product are handmade. That is what is amazing. The quality and durability is amazing. I would highly recommend taking a look at their product out on amazon.
Disclosure: I received one or more products or monetary composition for the exchange for my honest opinion. I only recommend product that I would use personally or believe would be a good fit with my readers. All opinions are 100 percent my own and may differ from yours. I am disclosing this in accordance with the Federal Trade Commission's 16 CFR, Part 255: "Guides concerning the use of Endorsements and Testimonials in Advertising.