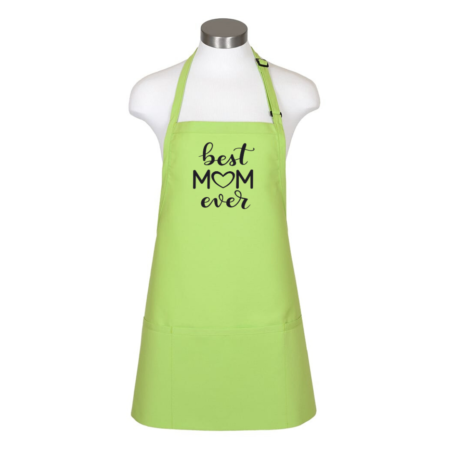 Does your mom love to bake in the kitchen? I know as a mom and especially during these hard times I'm finding myself in the kitchen more. I'm baking and cooking a lot and I love it. Although the one thing that I was missing was an apron for the kitchen. Lately I started getting all my shirts dirty with flour or
dough. I felt like I'm doing more wash than I need to.
For this Mother's Day I would recommend looking into Apron&Smocks.com. They offer a variety of Aprons and Smocks. We received an apron for Mother's Day and when I saw it I fell in love. This would make a great gift for mom or that special someone that is in your life.
The writing on the apron is a heat pressed vinyl decal. On the top of the apron it's a 2 piece neck adjustment slider. On the bottom of the apron there is a 3 divisional pouch pockets. There are ties in the back. The fabric has a ProDura Stain Release Treatment. The colors that are available are Raspberry, Hot Pink, Lime, Turquoise, White and Black.
This is great quality and they're amazing. I also like they offer a variety of different styles for Mother's Day. They also offer Father's Day aprons as well. This is great to have in the kitchen. It's truly a must have. Now I can keep my clothes clean and not worry about it. I would head over to their website and check out all of the smocks and aprons that they have to offer.
Disclosure: I received one or more products or monetary composition for the exchange for my honest opinion. I only recommend product that I would use personally or believe would be a good fit with my readers. All opinions are 100 percent my own and may differ from yours. I am disclosing this in accordance with the Federal Trade Commission's 16 CFR, Part 255: "Guides concerning the use of Endorsements and Testimonials in Advertising.