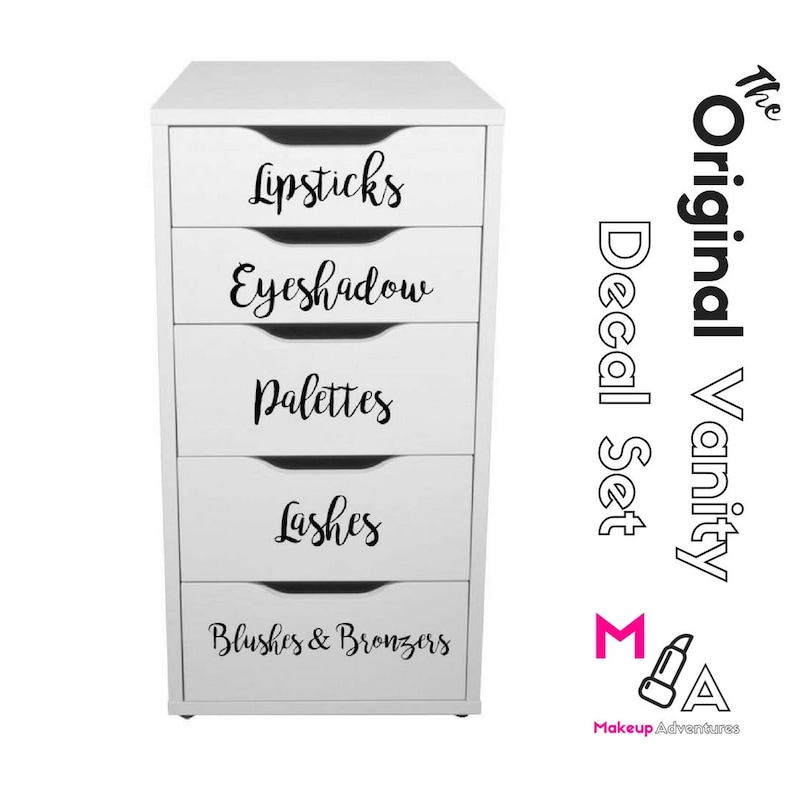 When it comes to your health and beauty products how do you take care of them? Do you have them organized? Do you have a shelf with different drawers with different items? What I love about Makeup Adventures is they create a label that you put on your vanity to create organization.
I thought this was a very neat idea. I never thought about having vanity decals. Not only does it organize your heath and beauty products. It looks amazing. When I received my decals in the mail they came in a special envelope box. It was white and had a pretty pink bow. I opened up the package and it had all the decals inside. It had the little tool that you would put the decals on with. Then there was a set of directions on how to put on the decals. Then their was a cute note and cards inside.
The decals that we received are Glosses, Lashes, Liners, Blushes, Bronzers, Palettes, Mascara, Brushes, Eyeshadow, Lipsticks, and & symbol. The label is on a backing that you rub with a tool on the surface your transferring it to will be simple. I tried one and it was fairly simple. I would recommend these in my daughter room. We are going to use the idea in the picture and get her something similar. Were going to put decals on like that. When you go to their shop they have different options and decals that you can purchase. I would head on over and take a peek.
Disclosure: I received one or more products or monetary composition for the exchange for my honest opinion. I only recommend product that I would use personally or believe would be a good fit with my readers. All opinions are 100 percent my own and may differ from yours. I am disclosing this in accordance with the Federal Trade Commission's 16 CFR, Part 255: "Guides concerning the use of Endorsements and Testimonials in Advertising.