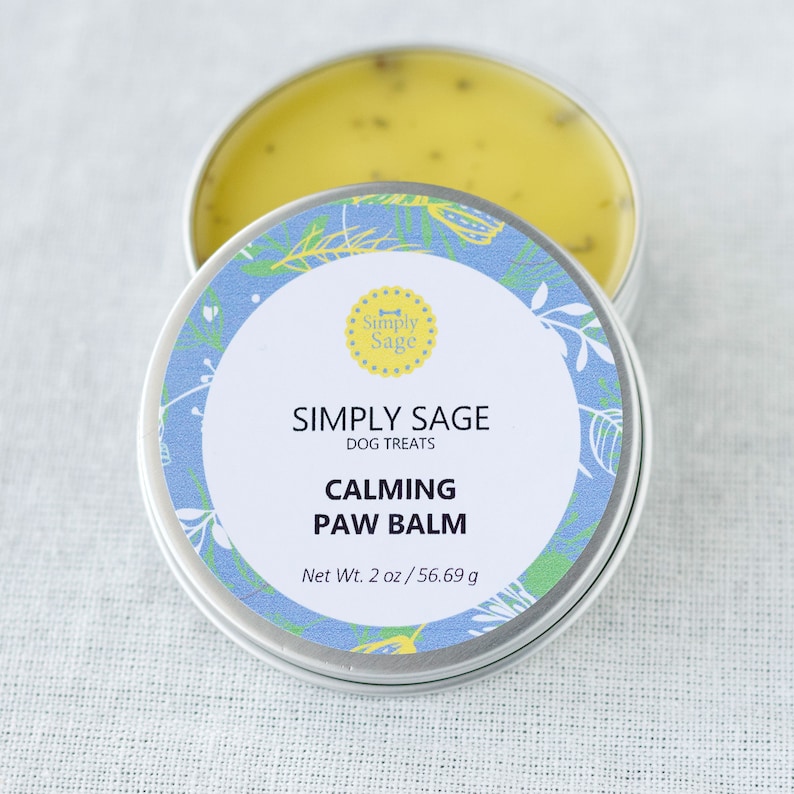 I know when I take my dogs out for walks there are time I noticed that their paws look a little rough. I never though about what to do for their cracked paws before. Now being introduced to Simply Sage Calming Balm I know what to do.
Simply Sage Calming Balm is made out of beeswax, olive oil, shea butter, lavender, lavender tea, peppermint, peppermint oil, essential oils, herbal tea, dried flowers and vitamin E. Simply Sage creates different paw balms, salves, and shampoo bars for dogs with allergies, sensitive skin and mild medical conditions.
The Simply Sage Calming Balm come in a 2 oz tin. This Calming Balm is intended for the following uses: Healing dry, chapped, rough paws, peeling, cracked paws,hyperkeratosis of the paws, paw allergy symptoms, grooming and spa treatment, extreme weather conditions, dry elbows.
This is perfect for our to cockapoos. Winter months can be harsh on their little paws. It dries their paw and they look a little rough at times. It easy to apply this cream. They recommend that you clean your dogs paws first with warm soapy water and dry throughly before putting on the balm. When I apply this balm to their feet I put a tiny amount to their small paws. I usually use this once a day. Although if they are still looking rough you can use it up to three times a day. I use a small amount on both dogs and it will last me a long time.
This is a must have product if you have dogs. I honestly never thought about their paws or if they are a little rough. When I was introduced to Simply Sage Calming Balm it made me aware and though about it more. I would highly recommend this balm it works wonders on my cockapoos paws. Also the price is reasonable and you can't go wrong. Stop by their etsy site and see all of their amazing products.
Disclosure: I received one or more products or monetary composition for the exchange for my honest opinion. I only recommend product that I would use personally or believe would be a good fit with my readers. All opinions are 100 percent my own and may differ from yours. I am disclosing this in accordance with the Federal Trade Commission's 16 CFR, Part 255: "Guides concerning the use of Endorsements and Testimonials in Advertising.